Fungi
Master list of fungi found on Naphill Common
Report and List of fungi found on Naphill Common Oct 2018 by Buckinghamshire Fungus Group
Report and List of fungi found on Naphill Common Nov 2017 by Buckinghamshire Fungus Group
Report and List of fungi found on Naphill Common Oct & Nov 2016 by Buckinghamshire Fungus Group
Report and List of fungi found on Naphill Common Oct 2015 by Buckinghamshire Fungus Group
Report and List of fungi found on Naphill Common Oct 2014 by Buckinghamshire Fungus Group
Report and List of fungi found on Naphill Common Oct 2013 by Buckinghamshire Fungus Group
Report and List of fungi found on Naphill Common Nov 2012 by Buckinghamshire Fungus Group
List of fungi found on Naphill Common Oct 2011 by Buckinghamshire Fungus Group
List of fungi found on Naphill Common Oct 2010 by Buckinghamshire Fungus Group
List of fungi found on Naphill Common Oct 2009 by Buckinghamshire Fungus Group
Hericium erinceus on Naphill Common
Photographs of fungi found on the Common
Individual fungi
Strobilomyes floccopus: This rare toadstool can be found on the bank between Dew Pond and the ditch of the farmstead. Nearby is the 'Great Beech' - one of the largest old pollard's on the common.
Cap 5-12cm, smoky-grey with white patches, soon becoming mouse-grey, with wart-like scales. Stem 80-120 x 10-20mm, white to mouse-grey covered with large scales. Can be seen early autumn.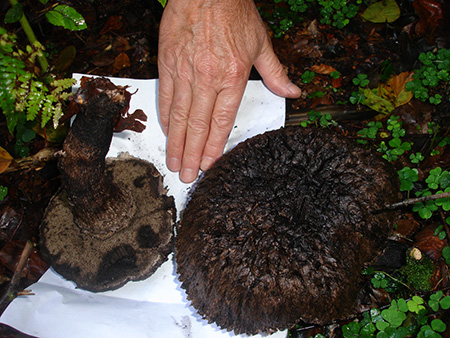 Photo courtesy of © Mrs T. Hussey
Hericium erinaceum: This rare Bearded Tooth fungus can be found at about 15ft up the 'Great Beech' next to Dew Pond. This fungus appears every few years.
A solid cushion giving rise to long pendulous crowded spines; whitish at first discolouring yellowish with age, spines up to 6cm long. Season late summer to autumn.
Click here to see photots taken over 3 months of the fruiting body.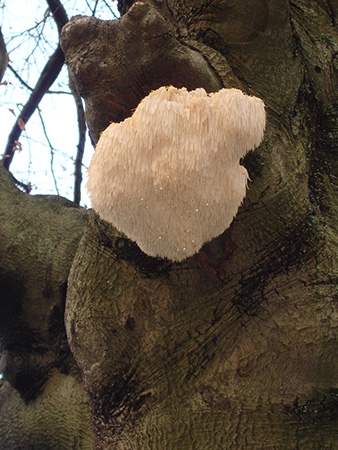 Photo courtesy of © Mrs T. Hussey
Click on small images to see larger image
All images © John Taylor
| | | | |
| --- | --- | --- | --- |
| Old man of the woods | Stump Puffballs | Stump Puffballs | Waxcap |
| Beech jellydisc | Bracket fungus | Dog stinkhorn | Jew's ear |
| Leafy brain fungus | Leopard earthball | Olive oysterling | Yellow brain fungus |
One of the objectives of the Friend of Naphill Common is to carry out surveys on animal and plant life found on the Common.
This could be carried out by a mixture of professional bodies or individuals and members of Friends of Naphill Common who have either an interest or just happen to see something on the Common.
If you have any information or can help in any way please do not hesitate to contact Trevor Hussey (see contact us)