Ponds
At present there are seven definite ponds on Naphill Common and a few depressions that might once have been ponds. This does not include Pickup's pond at the end of Downley Road, which strictly is not on the common and Manning's Pond which is just on Downley Common. Most of the ponds on the post-1860 common were used by livestock. "White railing ponds" for human use were nearer the main road. Main's water arrived in Naphill in 1929. The location of the ponds is shown on Philip's footpath map below.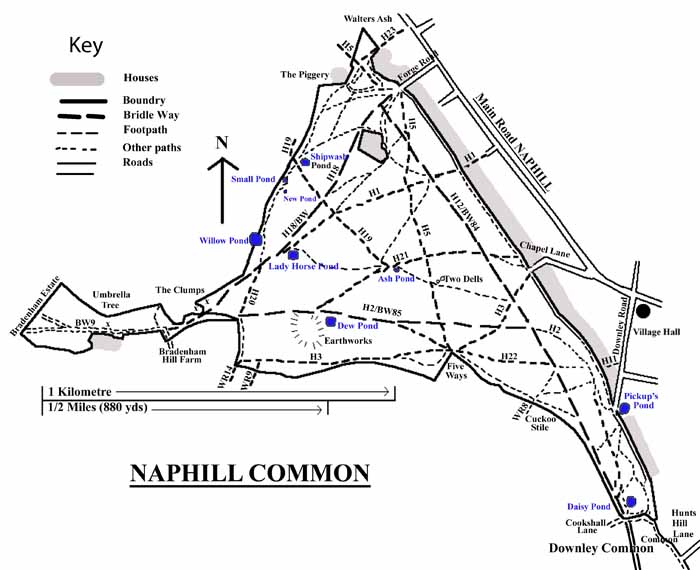 Nutritional Concentrations in Naphill Ponds by Andrew Quigley 2019
Naphill Common Ponds Survey by Tony Marshall & Holly Bennett 2013
Survey of the wetland plants and aquatic macroinvertebrates in two ponds on Naphill common with notes on their management - 2000
Ash pond (by the Broad Path) has some water in it but it is small and liable to dry up in the summer. There is no ash tree nearby.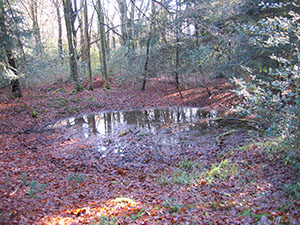 Ash Pond December 2008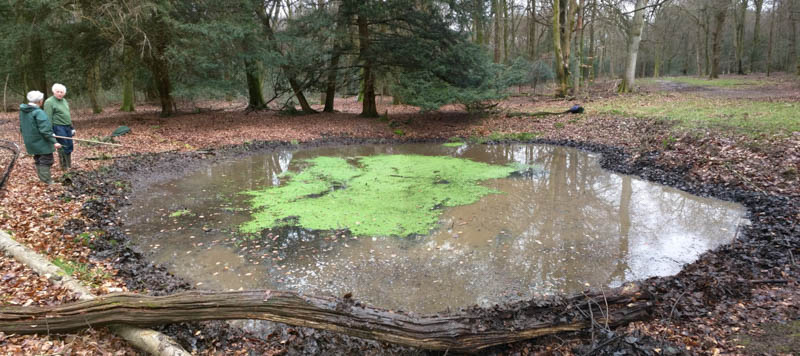 Ash Pond February 2016 after felling and clearing
Daisy pond does have water. It was (with Manning's Pond - on Downley Common) found, by Dr Alan Showler, to contain the starfruit plant, consequently it has received at least two attempts to clear weed and encourage the starfruit plant. Frog spawn can be found in this pond.

Dew pond contains water and is immediately adjacent to the Romano-British farmstead and may be contemporary with it - which would make it a remarkably old pond. John Hussey (son of Trevor Hussey) found a shard of Roman 'mortarium' pottery in the pond in 1991. This shard has been passed to Aylesbury Museum. Just prior to that the pond was rather over-enthusiastically "cleaned out" and the cleanings now form the large mound on its eastern side. This mound may contain more archaeological material. On the bank between the pond and the ditch of the farmstead there is a rare toadstool Strobilomyces floccopus. Nearby is the "Great Beech" - one of the largest old pollards on the common. This tree is now dead (2015) and fallen into Dew Pond. It was removed in 2018. Click here to see images of its removal. The pond has frog spawn and newts. Strangely, many OS maps omit this pond.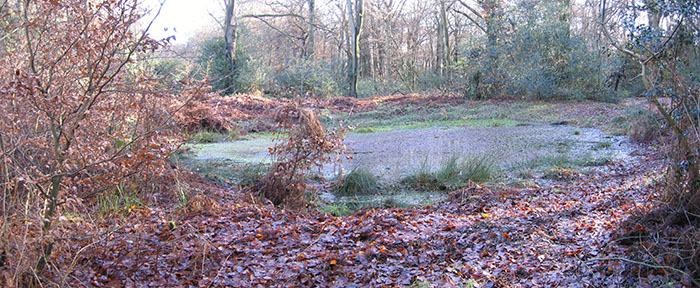 Lady Horse Pond over the years
Lady Horse pond contains water and was cleared out around 1991. It was used by livestock on the common, as were the other ponds. There is a story of a lady on a white horse seen riding into the pond but how old that story is, or where it came from is not known. The pond has frog spawn and newts.

Shipwash pond usually has no water but this year, 2008, water is present. It was, as the name suggests, used for washing sheep. A small promontory extends into it which may have facilitated the sheep washing. It deserves to be cleaned out to allow it to be refilled with water. (Prestwood Nature also have a Sheepwash Pond and they have carried out historical research and have restored their pond. Click Pond Restoration by Prestwood Nature 2007 - 2008 for a copy of their report.)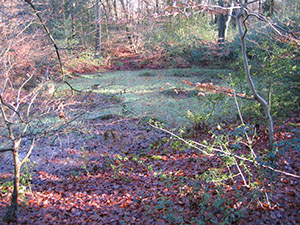 Small pond (proper name unknown) has water. It is also on the boundary between Naphill Common and The Coppice. It has newts and frog spawn. For many years it had a car dumped in it, subsequently removed.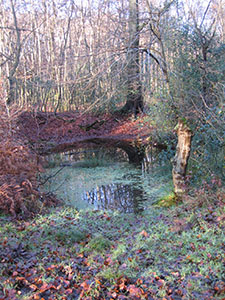 Willow pond has water. It is on the boundary between Naphill Common and The Coppice (Bradenham Woods). It is one of the largest ponds, perhaps the largest. There are sarsen stones on its edge.