Naphill Common - Trees
To see details of individual trees click here or for interactive map here
For details of the tree felling on the Common please click here
There are still some glorious ancient pollarded trees surviving from when the common was open wood pasture but we are slowly losing them. Amongst the existing trees we have some unusual specimens, including one common oak that thinks its an evergreen. There are still some remnants of what was once a remarkable forest of junipers; there are fragments of other heath-land plant communities.
Details of The Special Trees and Woods of the Chilterns - Naphill Common - can be found on the Chilterns AONB web site. Click here.
This site is very well worth a visit there is a lot of information and links to various aspects about trees on the Common.
If you have any information or can help in any way please do not hesitate to contact Trevor Hussey (see contact us).
JUNIPER
One of the motives for forming a 'Friends' group is to help conserve some of the more precious features of the common, including its rare plants. Juniper is one of these. It was once plentiful along much of the Chilterns but has now almost disappeared, and plans are afoot to save the last remaining specimens and even re-introduce it at suitable sites.
Naphill Common was once renowned for its juniper. In 1911, G. Eland wrote that: 'Among scattered and misshapen oaks and scrubby beech rise great bushes of juniper and gorse, eight or ten feet high.' Wilfred Smith recalled that around the turn of the Century: 'Some parts were covered with natural juniper forests, many so closely growing that it would be difficult to force a way through, many beautifully symmetrical columns of verdure 15 or 20 ft high.' Writing in 1948 he adds: 'Alas! Both gorse and juniper were the natural prey of the fire-raising vandal and have almost disappeared.'
Sadly, we now have only one healthy bush and about four more in various stages of decline, while another died three years ago. Perhaps one of our projects could be to help the juniper to prosper.
One problem with Juniper is that the sexes appear on different bushes and this makes matters worse as scarcity increases. For example, there is a single female shrub on West Wycombe Hill and it struggles to produce berries, but can you blame her when the nearest male is at Bradenham!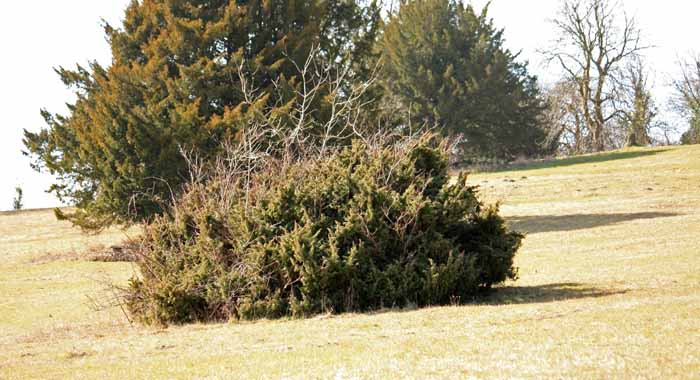 Last female Juniper in the area (West Wycombe). [Photo by Peter Davis]
Today we have few uses for juniper berries but they were once highly prized. The 17th Century diarist John Evelyn called them 'one of the most universal remedies in the world to our crazy forester; the Theriacle or Electuary I have often made for my poor neighbours, and may well be term'd the Forester's Panacea against the Stone, Rheum, Pthysic, Dropsie, Jaundies, inward Imposthumes, nay Palsie, Gout and Plague itself.' Clearly, if we can save the juniper we can halve the Nation's bill for the Health Service.
Report on the Junipers on Naphill Common 2010
Cuttings were taken from all four remaiming bushes on 17th January 2010 by Andy McVeigh, Bucks CC Field Officer and sent for culture (in Scotland) with the ultimate aim of reintroduction. On 18th October 2015 the first 6 of 10 cuttings were reintroduced back onto the Common